January 12, 1998: The Eagles, Lloyd Price, Carlos Santana, Fleetwood Mac, Jelly Roll Morton, and the Mamas and the Papas are inducted into the Rock and Roll Hall Of Fame at New York's Waldorf-Astoria's Grand Ballroom

All 7 Eagles (from left): Bernie Leadon, Joe Walsh, Don Henley, Timothy B. Schmidt,

Don Felder, Glenn Frey, and Randy Meisner


Once the opening act for the band, Jimmy Buffet had the honour of introducing the Eagles that night. Buffet paid homage to the band in a witty yet touching speech:

"It's nice to see everybody I can recognize in their tuxedos, and we truly do look like the people our parents warned us about tonight. I've known the Eagles for nearly as long as they've been a band...

"First, with about a jillion other war babies in America in 1972, I was converted instantly to an Eagles fan when I heard 'Take It Easy' on the radio...They put their thumb on the pulse of popular music, where it remained for nearly twenty-seven years. As performers they came with a straightforward style, no smoke bombs or sacrificial guitars...

"The Eagles created their own style, blending banjos and electric guitars, harmonies from the heartland and cutting-edge lyrics from the fault line, and God knows what they did for the chamber of commerce of Winslow, Arizona...

"The Eagles are going into the Rock and Roll Hall of Fame as one of the signature bands that began in the seventies, still alive and kicking ass as we head for the millennium. They've laughed, frolicked, cried, fought, but most of all they have beaten the odds and are as popular today as they were in that incredible summer back in 1972. And here I am, still opening for this goddamn band!"


Now it's the Eagles' turn. They ascended the stage smiling and laughing, and formed a circle behind Don Henley, who had the honor of speaking first:

"We are all grateful and honored for the opportunity and good fortune that have brought us all here this evening on the suspicious occasion!

"I've had a lot of mixed emotions about the name 'Hall of Fame.' It's the fame part that bothers me a little, here in the waning hours of the twentieth century. In what we call Western culture, in this age of media, friends, fame is just not what it used to be. It's become an ugly,



Joe Walsh, Don Henley, Timothy B. Schmidt, Don Felder, Randy Meisner, Glenn Frey

ugly thing! Andy Warhol was right; anybody can become famous for fifteen minutes--if you're sufficiently starved for attention and willing to be really obnoxious in public and make a complete fool of yourself, you too can be famous...You know, the line between fame and accomplishment is becoming very blurred. I guess they couldn't call it the Hall of Accomplishment. Accomplishment enriches life, and fame always comes with a price. Fame is a by-product of accomplishment...

"I appreciate all the work these guys behind me have done. I want to thank Irving Azoff, without whom we wouldn't be here today."

Frey cuts in: "Well, we might still have been here, but we wouldn't have made as much money!"

Henley laughs. "Right. As I've said before, he may be Satan, but he's our Satan!

"I want to thank Bill Szymczyk, who's here this evening, our producer...I want to thank Glyn Johns...Hell, I'll even thank David Geffen! And I want to thank our good friends and compadres Jackson Browne and
J. D. Souther, our crew, the many, many good men in our road crew...It's been a good trip, and we appreciate it.

"Last but not least, I want to thank my family, my mother and my father for believing in me early on, for getting me that drum set and letting me play it in the house. And I want to thank my wonderful wife for being patient and kind and loving and understanding. Thank you all."


Timothy B. Schmidt, the last band member to join, made his speech next.

"I'd like to thank whoever's responsible for my induction into this Hall of Fame. On a brief personal note, I'd like to say that I was not in the trenches with this particular band, and so I'd like to thank my predecessor for being there and paving the way for my being here tonight. With him beside me and the rest of these guys, I'm very honored. Thank you very much."


Former band member Bernie Leadon followed Schmidt with a speech that was filled his typically "dry" humour.

"Hi, my name is Bernie Leadon. I'm really honored to be here tonight. Thank you. Really proud to have lived long enough to be indicted. I'd like to thank everybody on the grand jury who voted for me. To the people already thanked, I want to add the names of a few less well known. One is John Boylan. He was Linda Ronstadt's manager and producer at the time that we got together and had a lot to do with my being included in the first group of four, and I'd really like to thank him personally tonight. I'd also really like to thank Ahmet Ertegun and Atlantic Records for having funded David Geffen and Elliot Roberts and the starting of Asylum Records. I know that Atlantic did a lot of work behind the scenes of the Eagles' success, and...also, thanks to my family."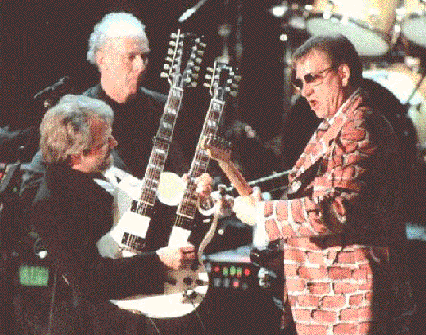 Don Felder (with double-necked guitar), Bernie Leadon, and

Joe Walsh during "Hotel California"


Next was Schmidt's humble and gracious "predecessor," Randy Meisner, who gave a short but sweet speech:

"I'd just like to say I'm very honored to be here tonight. Thank you, Timmy. It's just great playing with the guys again. I'd like to thank my mother and my father for supporting me during those years."


Wearing a suit which resembled a brick wall, Joe Walsh took the microphone next. He was greeted by the most enthusiastic applause of the evening, and gave his trademark opening.


Joe Walsh giving his speech in his "brick wall" suit




"Hey, how ya doin'? I would like to thank the people from Canton, Ohio; Akron, Ohio; and Cleveland, Ohio, for believing in me. I'd like to thank Bill Szymczyk for finding me in the middle of nowhere. I'd like to thank Don and Glenn for writing those songs. It makes my job real easy. I'd also like to thank all the guys that drive this equipment around, that drive the trucks, set it up, fix it, put it back in the truck, so we can do what we do. God bless the road crew. Thank you!"


After muttering about Joe's "charming" suit, Don Felder gave his speech.



"I'd like to again thank Don Henley and Glenn Frey for writing an incredible body of work thatpropelled this band through twenty-some-odd years of life...Thank you guys...And I'd like to thank my wife, Susan, who put up with me for twenty-six years while we did this."


Finally, it was Glenn Frey's turn, the man who had started it all.

"Well, I'm doing mop up...There's much I'd like to say tonight...Anybody who's been in a band knows what it's like to go through changes...A lot has been made tonight about disharmony. The Eagles were a very laid-back band in a high-stress situation. A lot has been made and a lot has been speculated about the last twenty-seven years about whether or not we got along. We got along fine! We just disagreed a lot! Tell me one worthwhile relationship that has not had peaks and valleys. That's really what we're talking about here.

"You cannot play music with people for very long if you don't genuinely like them. I guarantee you that over the nine years the Eagles were together during the seventies, over the three years we were together in our reunion, the best of times rank in the ninety-five percent, the worst of times rank in the smallest percentile that obviously everybody but the seven of us has dwelled on for the longest time. Get over it!

"On a personal note, you get a lot of free advice when you're coming up in the business. When I was still a kid, Bob Seger told me that if I didn't write my own songs I'd never get out of Detroit. I listened to him and said, 'Well, what if they're bad?' The first few will be really bad, but if you're good they'll get better. The next bit of free advice I got was from David Geffen, who told me I should get in a band and find a song-writing partner. I did both, and we're all here to celebrate the fruits of David's advice."

After Frey thanked everyone, the band approached their equipment, and broke into 'Take It Easy,' the group's first hit. This was the first time that all seven Eagles ever played together; the harmonies were rich and tight, and the extra instruments gave the song some extra "oompf." The group then played the last of their two-song set for the evening, their anthem, 'Hotel California.' Afterward, the audience applauded happily as the band left the stage, knowing that this would probably be the last and only time that all seven Eagles would play together.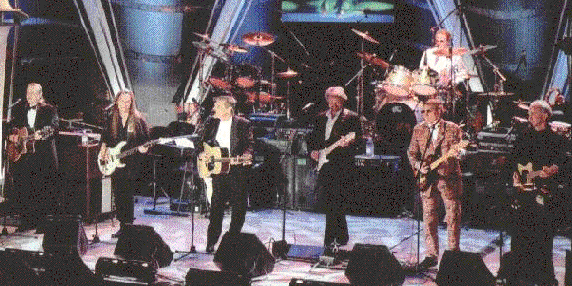 Randy Meisner, Timothy B. Schmidt, Glenn Frey, Don Felder, Don Henley, Joe Walsh, & Bernie Leadon
playing "Take It Easy."

Influences Index Songwriters' Hall of Fame Induction